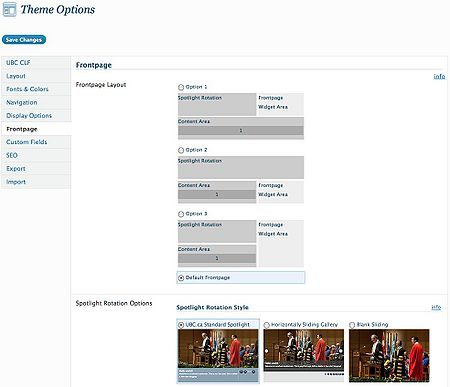 The CLF Advanced theme provides a frontpage template with custom frontpage elements, making it easy to achieve the common frontpage layouts seen around UBC. The frontpage consists of three main elements - the spotlight rotation, the frontpage widget area, and the content area. To configure your site's frontpage, go to Dashboard > Appearance > Theme Options > Frontpage.
PLEASE NOTE: You can use an existing page that you've already created as your frontpage. To find out how to do this, please visit this page.
The Frontpage tab has three sections of options: the Frontpage Layout, the Spotlight Rotation Options and the Content Area.
source: https://wiki.ubc.ca/Documentation:UBC_Content_Management_System/CLF_Theme/Frontpage_Options